Sliding contact materials
Sliding contacts, being used as brushes and commutators in motors and resistors, are required to have excellent electrical properties as well as superior contact reliability and corrosion and wear resistance. We provide sliding contact materials with excellent spring characteristics, hardness, and other mechanical properties that satisfy the necessary requirements.
TY series and Ag-Pd- and Cu-based alloys

We provide precipitation-hardened types that excel in contact reliability and wear and corrosion resistance, exhibit excellent mechanical properties such as spring characteristics and hardness, and provide high degree of hardness by heat treatment. The TY series offers choices from lines of Au- and Pd-based materials. Ag-Cu-based materials are advantageous in cost and mainly used for commutators.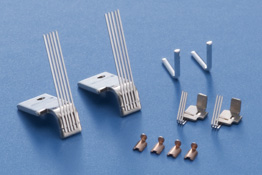 Physical properties of sliding contact materials (reference)
Melting point (℃)
Density (g/cm3)
Hardness (HV)
Tensile strength (Soft) (MPa)
Volume resistivity (μΩ・cm)
Application
Soft
Hard
TY40
1030
10.5
160
310*1
590
11~12
Brush
TY70
990
10.8
190
400*1
770
24~27
Brush
TY100
1085
11.8
200
370*1
690
30~35
Brush
TY200
960
16.2
200
330*1
540
15~21
Commutator and brush
TY300
950
15.4
200
340*1
650
13~22
Commutator and brush
TY401
870
10.4
150
250*1
600
10
Brush
40Ag-Pd-Cu
1050
10.7
200
420*1
690
15~22
Brush and commutator
30Ag-Pd-Cu
1050
10.5
200
450*1
690
11~22
Brush and commutator
Ag-Pd60
1385
11.4
90
180
370
42
Commutator and brush
Ag-Pd30
1210
10.9
70
160
300
15
Commutator and brush
92.5Ag-Cu
900
10.4
80
160
290
2
Commutator
*1

Precipitation-hardened product